JB Safe Diesel delivers 3 of SafePack™ 600M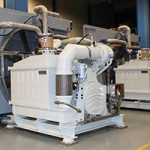 JB Safe Diesel recently delivered 3 of SafePack™ 600M engine units for a Customer in Europe.
The engine units are powered by MTU/Detroit Diesel S-60, 600HP@2100RPM engines and comes complete with radiator and engine control system. The engines is protected by our own SafeCooler™ and 3GHI Protection™ safety system. JB Safe Diesel lead the way in protection of diesel engines for use in hazardous areas!