DECAM™ Diesel Engine Control and Monitoring system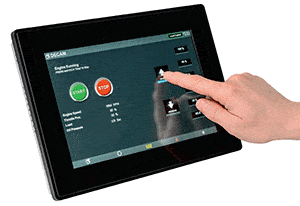 DECAM™ – Bringing engine operation to the next level
User friendly touch interface with active guiding system.

Remote control and monitoring via single Ethernet cable.

Engine service scheduler with reminders.

Suitable for mechanical and electronic engines.

Prepared for integration with

 

3GHI™ Protection.
DECAM system can be configured for:
HPU

Crane

Compressor

Pump unit

Generator set

Nitrogen unit
DECAM™ – benefits
Cost reduction – single control system for complete application.

Remote control.

Space saving – single HMI interface.

Dual certification – ATEX & IECEx.