Cummins Europe and JB Safe Diesel target Oil and Gas market with new range of Zone 2 power units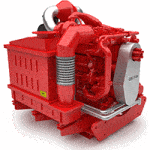 Cummins Europe and JB Safe Diesel today unveil SafePack™, a new range of Zone 2 compliant power units at Offshore Europe 2013. The SafePack™ power units have been specifically designed for use in hazardous areas, where concentrations of flammable gases or vapors may be present. In these environments, a SafePack™ is typically applied to drive compressors, pumps, alternators and transmissions.
The first SafePack™ power unit that will be introduced is the SafePack™ 660C, which incorporates the Cummins QSK19 diesel engine, rated 660 bhp @ 2100 rpm at 40ºC ambient temperature. The unit is fully compliant with the most stringent environmental and safety regulations, including ATEX 94/9/EC and NORSOK Z-015. Zone 2 certification has been secured by the installation of JB Safe Diesel's revolutionary 3GHI PROTECTION™  explosion protection system. The SafePack™ power unit is supplied with cooling system, exhaust gas cooler, ATEX safety system and diesel engine on a common base frame.
"We are very excited about the introduction of the locally developed SafePack™ 660C, as part of a whole new platform of Zone 2 compliant power units", says Leon Jenner, Regional Sales Manager Oil and Gas – Cummins Distribution Europe. "The oil and gas market is a key segment for us and the introduction of the SafePack™ range states our commitment to provide safe and reliable Cummins power to the sector."The explosion proof SafePack™ 660C includes JB Safe Diesel's in-house developed  exhaust gas cooler, spark arrestor and DNV certified 3GHI PROTECTION™ system. "The 3GHI PROTECTION™ system eliminates the need for an exhaust flame arrestor on the exhaust gas cooler", explains Jone Salte, Managing Director JB Safe Diesel. "This results in optimal engine performance, increased system uptime and reduced maintenance costs. The system offers flexible and seamless integration with plant systems, by either hardwired or bus and complies with NORSOK Z-015, up to Safety Integration Level (SIL) 2 according EN 61511, OLF 070 guidelines for IEC 61508 and 61511 and EN 50495:2010."
The successful SafePack™ product development was established through the formation of a close working relationship between offshore system specialist JB Safe Diesel and diesel engine experts from the Cummins Europe territory. "We expect the first prototypes to be deployed on various sites in the next few months", says Jenner.
The new SafePack™ 660C power unit is on display at Offshore Europe 2013, Aberdeen, on Cummins stand 1BB110.
About Cummins
Cummins Inc., a global power leader, is a corporation of complementary business units that design, manufacture, distribute and service diesel and natural gas engines and related technologies, including fuel systems, controls, air handling, filtration, emission solutions and electrical power generation systems. Headquartered in Columbus, Indiana, (USA) Cummins currently employs approximately 46,000 people worldwide and serves customers in approximately 190 countries and territories through a network of approximately 600 company-owned and independent distributor locations and approximately 6,500 dealer locations. Cummins recorded sales of $17.3 billion in 2012.
About JB Safe Diesel
JB Safe Diesel is part of the JB Group and specialized in solutions for securing diesel engine units intended for use in hazardous areas. More than 20 years of experience in development and production of exhaust gas coolers and electronic safety systems resulted in substantial knowledge about the latest technology, rules and regulations, including ATEX, Norsok, SIL and OLF.
Contact:
Sjoerd Spronck
Communications & Media Coordinator
+31 78 618 12 00
sjoerd.spronck@cummins.com